"Take Out & Tune In" Good Samaritan Fund Dinner
Tuesday, October 19, 2021
Di Matteo Worship Center
The Good Samaritan Fund Dinner continues our tradition of raising funds to assist those who can no longer fully afford to pay for their care and housing. Established in 1981 for the purpose of providing support to elders in need of financial assistance, our annual Good Samaritan Fund Dinner continues today for its original purpose. The dinner is a tradition of fellowship and generosity.
For the wellbeing of our supporters we will not be gathering in person this year, but we will still join together virtually to uphold the primary goal of the event…
the tradition of friends and neighbors raising support for our Good Samaritan Fund to provide benevolent care for elders in need.
Click on the TICKET icon to purchase dinner tickets on line or simply show your support by making a donation!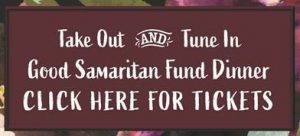 For more information contact our Development Office at 717-298-7232 ext. 3052.