Mother's Day Butterfly Release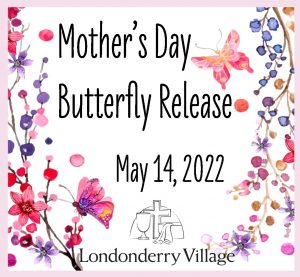 UPDATE!!! Please read:
Hello,
This is a communication regarding plans for tomorrow's Butterfly Release event, 5/14/2022 with a 12:30 p.m. check-in and a 1 p.m. program start.
There is a potential for rain so we have an alternate plan in place in the event of inclement weather.
First, please know that due to Covid still being among us we are going to make every effort to hold the Mother's Day Celebration and Butterfly Release Event outdoors as planned. If it is simply cloudy and overcast, we will still meet at The Shearer Family PlayPark for the event as planned.  With the number of guests who have RSVP we do have seating under the outdoor pavilion.
However, if it is raining the event will move indoors to the DiMatteo Worship Center located at our Snell Community Center. Guests will be directed to park at the Snell Community Center parking lot. The program will be held (presenters and music) with guests then receiving their butterflies to take home with them for release. PLEASE NOTE THAT MASKS MUST BE WORN INDOORS.
Please note that if you choose not to attend the program there is still a drive thru pickup option available from 11 a.m. to 11:30 a.m. at our main entrance.  You can drive under the portico at the main entrance to receive your butterflies. Staff will be available to assist you.
Thank you for your understanding and cooperation. We also thank you once again for your support of our Good Samaritan Fund.
If you have any questions please feel free to call our Development Office at
717-838-5406 ext. 3052.
Join us for this unique event which is fun for all ages! Happening on May 14, 2022 at 1:00 p.m. this family friendly event, which is open to the public, will be held at The Shearer Family PlayPark on our campus. 
A brief program prior to the Butterfly Release will recognize those being honored and remembered.  Participants release their butterflies as part of the program. For those who sponsor butterflies and are unable to attend, butterflies will also be released en masse during the program.
Your gift supports the Londonderry Village Good Samaritan Fund (GSF) for benevolent care.  Our GSF ensures residents in need of financial assistance continue to receive care and essential services if their assets are depleted.