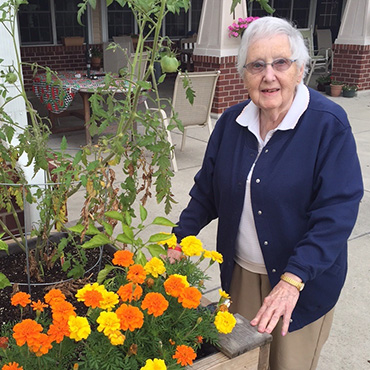 Grace Williard
Palmyra, Pa – "It's been a beautiful life so far," says Lebanon Valley Brethren Home resident, Grace Williard.
Grace, who first moved into an independent living home years ago with her second husband, Elvin Williard, now resides in one of our Green Houses® for those needing nursing care.  Grace enjoys sitting on the patio that overlooks the beautiful flowers and vegetable plants, many of which she planted and helps to maintain.
The raised planter box that Grace gardens in was designed and built by independent living residents in our campus Woodshop.  They constructed six handicap-friendly flower boxes for the elders, one for each of our four Green Houses,®  and two for our Leffler nursing unit.  Jack Carbutt, one of the Wood Shop artisans, explains that these raised planters were specifically built so that residents in wheelchairs can comfortably use them.
Grace, an avid gardener, is currently tending to two tomato plants and two green pepper plants.  As she looks proudly upon her plants she explains her experience while living at LVBH. "The staff here takes great care of us and has a genuine interest in our well being… and the food is delicious!"
Grace has two children by her first husband, the late Richard Bishop; Grace say her children feel very comfortable knowing she is so well taken care of, and that she is surrounded by friends.  She feels very lucky to have had such long wonderful marriages to two amazing men, both who she considered her best friends. Family is everything to Grace, and they include her two children, several step children, grandchildren and a brand new great granddaughter who was named after her; she holds each one of them near and dear to her heart.
Grace is a former secretary at the Milton Hershey School for 21 years.   Some of her friends from the School still come once a week to visit her.  "I feel very lucky to have worked at the Milton Hershey School. I considered myself a very good employee and learned a lot about computers back when they were still a new thing."
With the annual Chicken BBQ coming up on July 25th,  Grace reminisces about the days that she and her husband would walk around to see all the events, such as the food and bake sale, car and tractor show and live entertainment, before returning home to enjoy their delicious BBQ chicken meal.   Grace has always enjoyed living here and credits the friendly and caring staff as the main reason why the LVBH experience has been so wonderful for her.
For over 35 years, the Auxiliary and staff of the Lebanon Valley Brethren Home have organized the annual Chicken BBQ and Auction to help provide funding for the Good Samaritan Fund, which provides financial assistance to those residents who can no longer afford their care.  This years' Chicken BBQ weekend kicks off on Friday, July 24th at 5:00pm with a bake sale and refreshments at the Stoneback Pavilion, followed by a free musical performance by the New Holland Band at 7:00pm.  Bring your lawn chair and come early as food will be available for purchase.
On Saturday, July 25, 2015 breakfast for early risers begins at 7 am followed by the Auction at 9am. Outside you will find the car show and kids area opening at 9 am.  Kauffman's Chicken BBQ will be available for purchase beginning at 11am. The event wraps up at 1:30pm on Saturday with a celebration service and ice cream social.
Lebanon Valley Brethren Home operates four Green Houses®, which are designed to provide one of a kind nursing care experiences.  Each Green House® is a freestanding 7,000 square foot ranch style dwelling, and is home to 10 elders, all of whom have private bedrooms and full baths.  Each Green House® has an open floor plan with a large living room, kitchen and family style dining room.  The elders receive 24-hour nursing care, and all meals are home-cooked right in the House.  Close relationships and friendships naturally form with the elders, their families and our Green House® staff members.
Lebanon Valley Brethren Home located at 1200 Grubb Rd. in Palmyra can be reached by calling 717-838-5406, or email them at info@lvbh.org. Find out more information about the BBQ and Auction and our Green Houses® online at www.lvbh.org or follow them on Facebook at www.facebook.com/lvbhome.