Elder Stories Part 1
My Pal Brownie
Brownie, a long-haired Dachshund, always found his way into my truck when I visited my buddy, Dennis. Brownie liked to jump into my Ford Ranger and make himself comfortable on the seat right beside the steering wheel. Frequently. When I went to leave, I tried to get him to awake, but he kept on snoring. He was the "King of the Truck". One Christmas time I brought some candy canes for Dennis and his family. I left the opened box of candy canes in my truck, but of course Brownie found them and helped himself to one. With his big brown innocent eyes, I left him keep the candy cane. It never mattered whose truck, Dennis or mine, Brownie would make himself comfortable on the driver's seat. He loved resting in one of our trucks. We concluded that Brownie was patiently waiting for one of us to teach him how to drive.
Paul Dietz (4/20/20)
)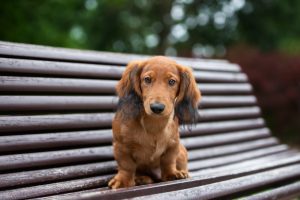 Our Special Day in the Park
Johnny was serving in the Air Force oversees. It was a beautiful, pleasant day in May. So, Johnny's wife, Milly and their son, Jimmy decided to stroll to the park to have a picnic. They even dressed in blue and white, with white hats to show respect for Johnny's military service. Along the way, Jimmy picked a bunch of cherry tree blossoms for his mother. Milly was deeply touched to receive the flowers from Jimmy.
The picnic basket was filled with crisp apples, popcorn, peanut butter crackers, orange slices and grapes. After eating from their basket, they decided to toss a Frisbee to each other. It was peacefully quiet, with some birds singing. Every now and then the fish would splash in the water, especially when Jimmy tossed some cracker crumbs to the fish.
After an enjoyable afternoon together, Milly and Jimmy ventured home so they could call Johnny to tell him about their special day.
Milly Roth (5/18/20)